Travis Scott's Astroworld has been headlining all over the world this week – for all the wrong reasons following the devastating incidents that took place resulting in 8 deaths and over 300 injuries.
Astroworld took place in Houston, Texas, and was set to entertain 100,000 people over the course of two days: Friday 5th November and Saturday 6th November.
This was not the first time Travis Scott's event Astroworld has been in the headlines. On November 9, 2019, security lines were breached during the show and many injuries ensued with 3 people being hospitalised. Following this, they decided to increase security personnel and the strength of the barricades for the upcoming Astroworld.
There were 505 event security staff members, 91-armed private security officers, and 76 officers from the Houston Police Department at the event. Clips from 2019's chaos were used in the promo video for 2021's Astroworld which showcased people jumping over the crowd as well as the barriers, all whilst ignoring security.

Timeline of Astroworld 2021

May 5, 2021
Travis Scott announced the tickets were to go on sale on the 5th of May at 10 am. The cheapest tickets cost $349, and they were sold out in 30 minutes.

NOVEMBER COME WON'T YOU POP OUT AT THE FEST !!! THIRD ANNUAL. BIRTHDAY FLAMEEEEEE AHHHHHHHH ON SALE WEDS 5/5 10AM CT https://t.co/7iBfHx8cBy pic.twitter.com/Aoo6PwMuL6

— TRAVIS SCOTT (@trvisXX) April 30, 2021
October 26, 2021

On October 26th, Travis Scott announced he "finessed" some more tickets despite the show being sold out.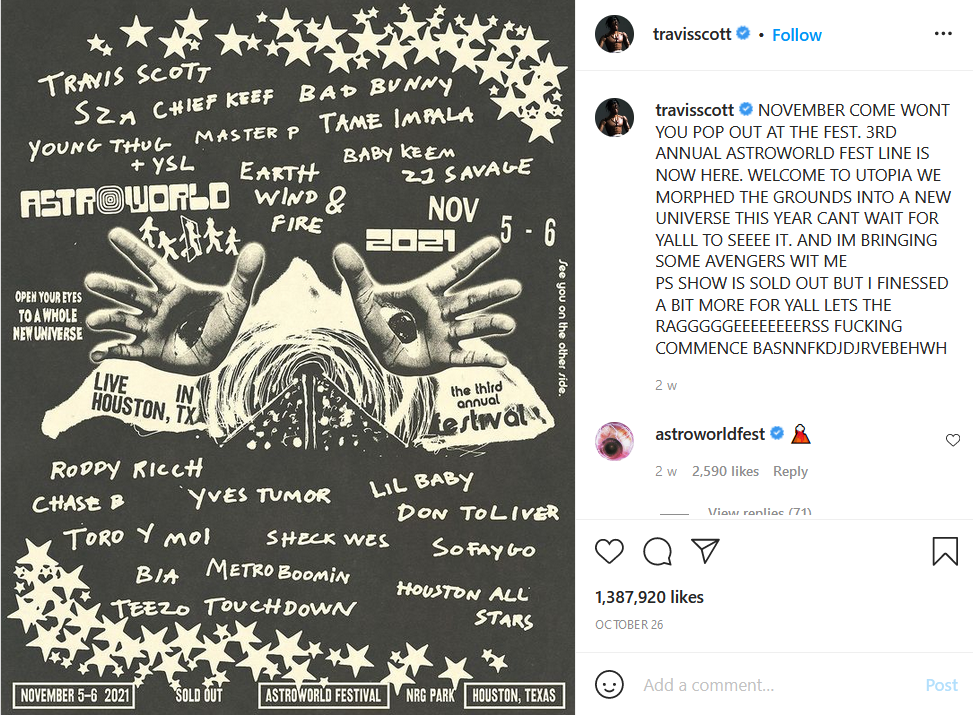 November 6, 2021: Friday Afternoon
On the opening day of Astroworld Friday the 6th of November, people were surging past the security and the barricades to get into the event. The crowd was also found ignoring security staff and surging through the VIP entrance whilst knocking over metal detectors, barriers, and other people.
November 6, 2021: Before the show
According to the New York Post, Houston's' Police Chief, Troy Finner, visited Travis in his trailer to voice his concerns about the crowd before the event had started.

November 6, 2021: 9pm
Everything seemed settled down whilst the opening acts were performing, however, when Travis Scott appeared at 9pm, the crowd's excitement heightened and encouraged people to push forward, crushing numerous others in front.

November 6, 2021: 9:30pm
People began collapsing approximately 30 minutes after Travis had gone on stage. At least 11 people fell unconscious due to cardiac arrest. People were chanting to stop the show as well as some getting up on stage, pleading for help.
Fans were shouting "Stop the show" at #ASTROWORLDFest pic.twitter.com/IF4IW1DND8

— Squirt Reynolds (@SquirtReynoIds) November 6, 2021

Paramedics tried to drive through the crowd to help an unconscious person. Travis Scott noticed this and stopped the song to calm the commotion. Shortly after, he continued the show and the chaos resumed.



November 6, 2021: 9:38pm
At 9:38pm, officials had declared the event was a "mass casualty incident'' and Live Nation (the event organiser) agreed to shut the event down. Despite this, Travis Scott appeared to continue to play until the end of the 75-minute set.
Post event
As a result, Saturday was cancelled and those that had attended the previous night were issued refunds. Travis Scott acknowledged the victims and issued an apology stating he was 'devastated' and 'could not imagine the severity of the situation'. Travis now faces multiple charges as well as a $1,000,000 lawsuit in connection with the allegations and charges.
Who is to blame for this tragedy?
Travis Scott? The Risk Managers? The event and security team?
For a start, the event security should have planned better - there was only 505 security officers and 167 official officers for 50,000 people. The medic teams were understaffed with a number of them having little to no experience of performing CPR as well as not being equipped with the necessary medical tools. There was a clear failure in the level of proper risk assessing and planning.
Travis Scott is known for his chaotic energy during his concerts. He encourages raging, mosh pits and anarchistic behaviour. Scott has previously been charged for encouraging fans to overrun security and breach barriers. His concerts have previously resulted in multiple casualties with one concert in 2017 leaving an individual paralysed.
You would think that these previous incidents would discourage Scott and his team when it comes to inciting the crowd. In fact, quite the opposite – as we mentioned above, footage from 2019 showing riotous behaviour from the crowds, with complete disregard for safety and security was actually used to promote this years' event. Travis had also posted multiple photos of individuals passed out and injured from previous concerts highlighting them as 'heroes', further normalising the disregard for health and safety. When the headline act is condoning and promoting such behaviour – did the security teams even have a chance?
Why wasn't the show stopped when people started surging through barriers? When security was breached so early on in the day should that have been an indication of what was to come?
One major question is, who calls the shots? At what point should they have stopped the show? And whose responsibility was that?
What was going on with comms between the medic teams, security teams and the event/stage crew?
Despite the show being sold out, Travis opened more ticket sales which potentially means there was more than 50,000 people in attendance. Travis and his team had been warned before and during the show of the crowd safety risks and incidents that had occurred. However, it seems crowd safety did not factor high on his priority list. Is crowd safety his concern or should he be able to trust his team?
Travis Scott clearly owed his fans a duty of care, did his behaviour breach this duty?
The lack of respect that the Astroworld crowds paid to the security teams is not unexpected and in fact in light of previous events should have been expected and planned for. This event and the fatalities that followed stresses the importance of security. Security isn't there to prevent you from having fun, security is there to ensure that you do, safely.
Share article